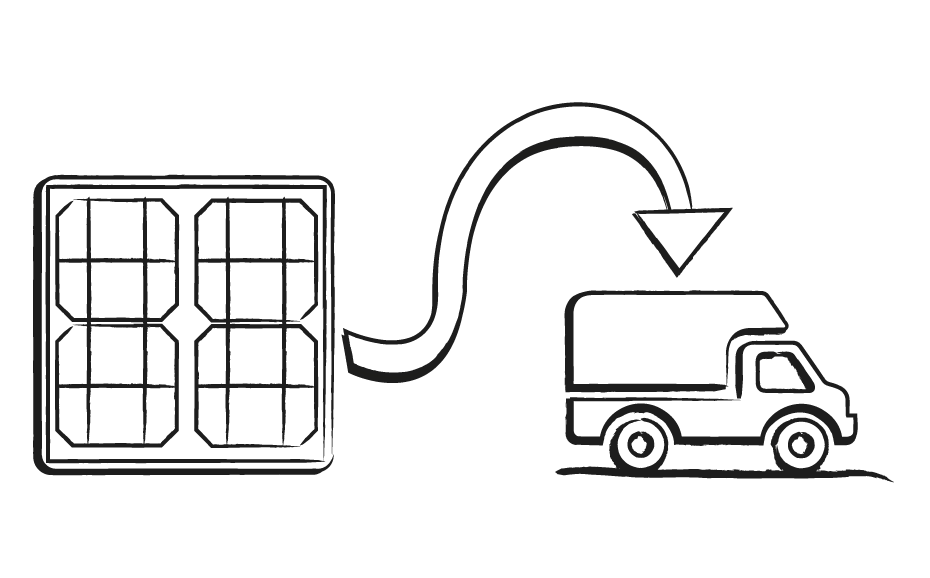 Thanks to their flexibility, the Tregoo solar panels of ThinLight and Nano series, can be easily applied on the surface of Campers, Caravans and any other recreational vehicle. In this article we'll show you how and which materials can be used to install the solar panels on the Camper.
---
Warning:
Before proceeding to the installation, we recommend to carefully clean the surface chosen for the setting of the panel.
---
Polyurethane adhesive
The Tregoo solar panels can be directly fixed on the surfaces of the camper by means of products specifically conceived for outdoor use such as, for instance, a tight polyurethane adhesive. The adhesive can be quickly applied and we recommend to glue the bands on the edges of the panel and vertically in an alternate way on its surface.
Warning: when applying the adhesive in an alternate way on the rear of the panel, some "free spaces" generate. In this specific case, the solar panel is no more walkable, since the surface on which the panel is placed is not uniform. If you want to "walk" on the product it is necessary to apply the ribbon on the whole surface of the backsheet.
---
Fixing by screws and eyelets
The solar panels can be installed also by means of eyelets, screws and rivets. In this case, it is necessary to maintain a space between the eyelet and the screw, so as to preserve the panel from any expansion of the bodywork due to solar irradiation.
If the camper is already arranged to host a PV system, it won't be necessary to drill the roof for the passage of the cables. Contrarily, you'll need to pay the utmost attention when drilling the surface, in order to avoid any damages.
Furthermore, in order to get a "clean" and tight effect from an aesthetical point of view, we suggest the use of fairleads and plastic bands to join the cables and adhesive headers so that the cables too stick to the surface.
---
Whatever the chosen solution, upon setting the panel, it is necessary to exert the necessary pressure so as to make the panel uniformly stick to the surface.
Finally, in case the panel is installed upon movable surfaces (f.i. peaks), in order to prevent the panel from flyin away due to the wind ("sail effect"), we recommend to bend it slightly towards the running sense .