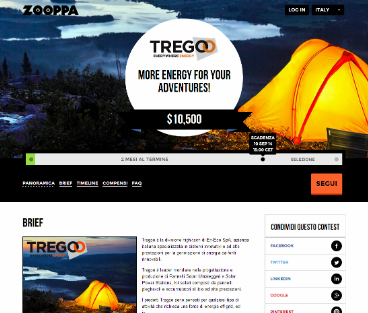 This summer, Tregoo launched a contest on Zooppa's community of videomakers. According to the briefing, creatives have been requested to explain the brand values in an original manner, especially with regard to the potentiality and strong points of the core product: the Solar Power Stations, energy for your adventures, every time and everywhere!
Thanks to an intense participation, over 60 videos with different formats and various concepts has arrived. For this reason, Tregoo has decided to ask the Web audience for a hand, in order to choose the most beautiful and representative videos.
Watch the playlist uploaded on our Youtube channel and comment or share the videos you like most, so you'll help us to select the winners who deserve awards provided for the contest.
Thanks for your contribution!