Anita Burgholzer & Andreas Hübl, members of the Nandita team, deservedly enter the TREGOO EXTREME CREW.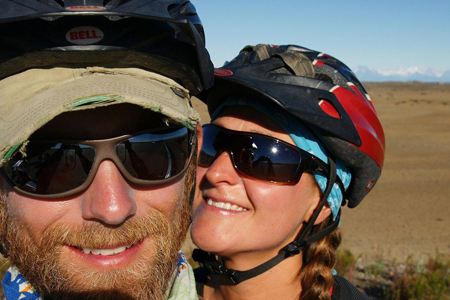 The Austrian couple introduce themselves at best to Extreme Action lovers: they will represent their country at "The Sun Trip 2015", a show at its second edition and organized at the same time as the EXPO 2015 in Milan.
The 43 participants will cover, thanks to their solar bikes, a venturesome path from "EXPO to EXPO": from Milan to Astana (Kazakhstan), city of EXPO 2017.
The pedelecs, the sun… and Tregoo solar panels. Anita and Andreas will clock up 8.000 Km (of which 1200 Km, imperatively, on earth track) supported by flexible and ultralight Tregoo solar panels.
In order to power their electric bikes - with 418 Wh, 36V, 11.6 Ah batteries - they chose a kit composed of two 130 Watt Tregoo TL 130 solar panels, put in series to achieve 34 Volt; a Genasun MTTP charge regulator will then increase the voltage over the 36 Volt of the accumulators.
The Austrian Team will bring also another TL 130 as backup, since there are many kilometers to cover, and much hunger for clean energy!
---
They might know nothing about solar bikes, but Team Austria are really rugged travelers! They concluded a cycling world tour not so long ago, counting 36 000 km through 35 countries.
thesuntrip.com
---
"Team Austria are really rugged travellers" As you can read in the presentation note of the "The Sun Trip", the Austrians of Nandita Team, despite having no experience with electric bikes, are world citizens (and bikers) that have recently concluded a tour of 844 days; their bikes covered a path of 36.500 Km through 35 Countries.
Their desire for adventure and documentation led them in the most different places, as in Australia (in 2004) and in Yemen (in 2007). The tale and the routes covered by Anita and Andreas are told in their book RÜCKENWIND – Mit dem Rad um die Welt (at its third issue).
The new entries of the Tregoo Extreme Crew have all requisites to captivate the fans of extreme bike tourism and Tregoo TL130 solar panels (with a weight of 2,20 Kg) will surely be the ideal travel companions for Team Austria.
"The Sun Trip 2015" will begin June 6, 2015.