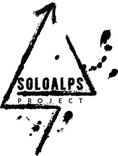 Elia Origoni, a young 24 years old scout, enters the Tregoo Brave Crew, the sponsorship which grants its athletes a discount of 30% on our products.
Elia lives in the pre-Alps region, near Varese and he has been breathing the mountain air since his childhood. Scouting, that he has been practicing for a longtime, communicated him values such as environmental protection and passion for alpinism.
He has planned his solo mission on the Alps for five years, and this allowed him to enter the great team of Tregoo Extreme. Solo ALPS Project is a trek on the Alps that will start from Vienna (May 2015) and will terminate in Genova. A "walk" of up to 2.000 Km!
---
The "Solo ALPS" project was born from the idea of living with basics, in contact with nature and with small local realities of the Alpine area, trying to find again harmony in life and the right balance between innovation and the frenzy that the latter engenders, discovering the beauties that are more and more concealed behind a display.
soloalpsproject.com
---
Anyway, the mountaineer from Varese doesn't want to be completely deprived of technology and he wishes to tell, step by step, about his trekking on the Alps on his own site (and on social networks).
But how is it possible to keep a blog updated without electricity? That's actually the question that Elia asked himself some weeks ago. The answer was simple and immediate: Power Station Tregoo 10 – 50 Extreme.
The solar kit – composed of an ultralight 10 Watt solar panel (350 g) and an accumulator able to store up to 50 Watt of current – will grant him an always available reserve of eco-sustainable energy.
The portable photovoltaic kit will so allow, the young trekker, not only to keep smartphone and tablet always charged – to capture and share all the moments of his adventure – but also to have an essential storage of solar energy for mountaineering equipment, such as GPS and the position indicators.
---