In January, Gian Luca, challenged alone Highlands place: a particular land, that puts a considerable physical and mental pressure, for all trekkers, alpinists or walkers.
Tregoo Extreme athlete tell us his short but strong experience, unfortunately stopped by a bad fall that compromised his equipping and so, also his expedition.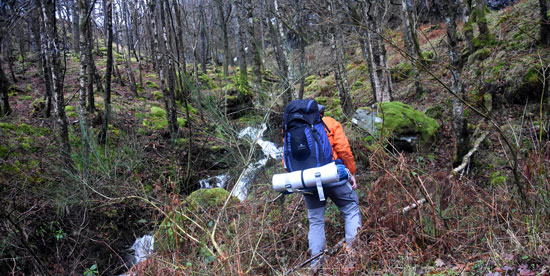 Gian Luca expedition in the Highlands
When I left Glasgow, my enthusiasm for the expedition was really perceptible. Having traveled for big lands, just the second day I entered in a forest really particular, with Caledonian pines, and a lot of shrub, that expressed a monotonous space and this forced me to increase my concentration for better orient myself.
I walked all day in the forest, worried about the possibility lo lose myself. It was rainy and foggy. I was stressed, tired and hungry, and so I decided to reach an upland, where I was able to observe in details the surrounding landscape.
After 100 meters my left foot was trapped in the mud. Because of difficulty by of my bag's weight and by my tiredness I lost my own balance and I fell down on the face of the hillock. Fortunately, the bag helped me to protect myself from conks. On the contrary, my campsite and my camera were destroyed.
After lots attempts to repair my campsite, I decided to abandon the expedition. It would be unthinkable to continue the expedition, without this kind of support; it would be really dangerous and me, I was really soaked! In add, during the night, temperatures went really down: - 10° (-20° perceived). And without my campsite was impossible.
The third day, in the morning, I went to Westside, I walked for 12 long hours until I stopped a car on A82 highway. (Notwithstanding this is one of the main streets here in Scotland, there is low-traffic). This car brings me until Invernan, a little suburb of 1800, near Lomond Lake. I reached finally the outside.
Solar Power Station 10-50's review
With the solar kit for climbers, I charged my camera. With the portable accumulator, I charged my reflex battery, which finished rapidly. The panel Hippy 10 is able to charge the portable accumulator, also if it's rainy or cloudy.
The solar Kit has shown to rise to that challenge and I would like to bring it to me in next expeditions too.
Next projects: from The Alps to the Apennines
Now I publish, on my own blog, my emotions, impressions and thoughts about my alpinist world. Last week I presented my book:"54 giorni nel cuore delle Alpi", where I wrote about my expedition in summer 2015.
In the middle of October, I will walk across an entire mountain chain: the Apennines. I'm going to leave from Cadibona hill, the pass that divides both the main important Italian mountain chains and then I'm going to reach Nebrodi Mounts. The crossing will last two months and I will make the maximum climbs I can.
You can find the complete story tale about Highlands, and all Gian Luca activities on
Montagne Digitali
blog