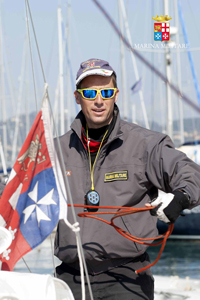 Andrea Pendibene began as best as he could the "mini 6.50" Italian Championship. On Saturday 14th March, the Italian Navy athlete was the solo skipper to close first the regatta from Fezzano to Talamone.
The 22 boats travelled 130 miles disturbed by a strong Sirocco wind (12 knots). The weather conditions required the departure to be anticipated, but they had no impact on the excellent performance of Pendibene, who, on his new ITA883 – Pegaso Marina Militare crossed the finish line and came first as solo racer and fourth in the general hit.
In the interview given by the skipper of the Marina, you can feel strong excitement, for his first seasonal victory, and determination for the future races.
The next appointment with Italian Championship is for Friday 20 March on the route Talamone-Capraia-Elba-Giannutri-Le Formiche-Talamone.
Resilience and high performances are the main characteristics which Tregoo PV panels and the Italian sailboat pluri- medallist have in common.
Pendibene uses the ThinLight series solar panels on his boats
---





TL 40

€ 299,00





UP TO 320Wh OF ENERGY
AVAILABLE EVERY DAY







TL 40 Stripe

€ 299,00





THE BEST PERFORMANCES
WITHIN A PRACTICAL DESIGN