The tales of the Tregoo Extreme have allowed us to identify ourselves into the characters of the most extreme adventures, and let us sail into the deep waters of the Atlantic or ride through the Sahara desert for many kilometers.
Alte Vedute is the new group of the Extreme Crew composed of Daniele Peti and Daniela Spadoni, who are not athletes, but professionals who, thanks to their skills, make their tales valuable.
Daniele and Daniela bring us into a world tour by showing us uncontaminated places, seen from an appealing and original point of view!
---
Video documentary in Kenya - Next Project
---
Daniele are Daniela are professional video makers with a more than ten-year's experience, that have been making aerial shots for five years. In the last few months they produced, with collaboration of Tour Operator Azalai, the video stuff for Namibia and a promotional documentary for Senegal.
From 9 to 15 November, Alte Vedute is coming back to Africa and its drones will fly over Kenya, as well as the Amboseli park, Naivisha lake and the Masai Mara reserve, shooting territories dominated by the wide savana, inhabited by lions, cheetahs and elephants.
All the works of Alte Vedute can be seen on their You Tube channel but it will be possible to appreciate the aerial shots of Kenya also on TV. In fact, the documentary is going to take part in the contest "Registri dal mondo cercasi" on a TV show, presented by Licia Colò, Il mondo Insieme.
The Solar Power Station 40-120 will recharge Drone batteries
---
The drone used by Alte Vedute is a DJI Inspire 1, a quadcopter that can be driven from a distance of 1.7 Km and whose video camera allows the high-definition shooting of digital stuff: video in 4K and pictures up to 12 megapixel.
The drone must be driven by two people, one driving the vehicle and the other handling the videocamera, that can make a rotation of 360° , allowing breathtaking view.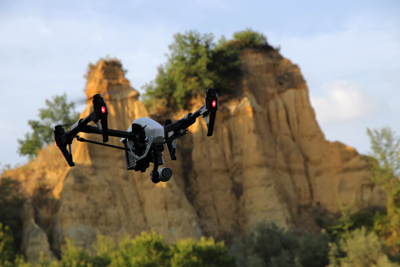 The drone has got 4500mAh (22V) Lithium batteries, and their life can vary from 15 to 20 minutes. For the outdoors shootings the Alte Vedute team always bring with them 4 batteries, an energy storage that might not be enough for Kenya.
For the next documentary, the video makers have therefore decided to make use of the Solar Power Station Tregoo 40-120. The Gecko 120 (powered by the panel Hippy 40), thanks to a transformer that stabilizes the voltage of the output current at 22V, will be able to recharge the drone batteries.
The solar kit will be able to supply an endless energy storage, allowing Daniele and Daniela to go on with their task and make the video documentary in Kenya in total quiet… or almost!