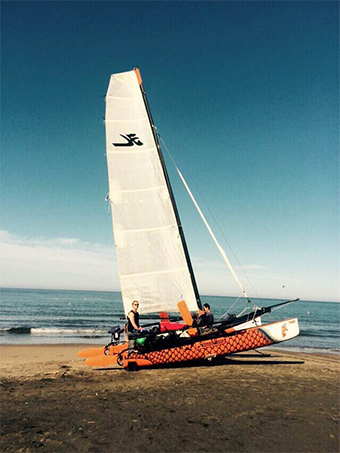 Enrico Corsetti, sea lover and vice- president of the Italian Naval League- Lido di Ostia Section, has conceived a product that will excite the interest of all nautical sports enthusiasts..
The skipper, together with his Tigro, a Hobie Cat Tiger 18 beach catamaran, has been practicing yatching for many years.
In his venturesome journeys he makes use Tigro-Tenda, a waterproof PVC tent (90x90 cm) which, besides functioning as watertight container to practice boat camping (it can keep food, cloths, igloo tent, etc.), allows to protect from water the nautical equipment (VHF radio, GPS, echo sounder, Go-Pro camera ) and any mobile devices (tablet, smartphone), in addition to charging them thanks to Tregoo TL 20.
How is a PV tent made?
---
Enrico, in collaboration with a upholsterer and a wet suits manufacturer, has produced the tent, which is composed of two pockets with waterproof zips.
Inside the tent there is a space having the same size as the Tregoo solar panel (620 x 292 mm). The modules, which are seawater resistant, are covered by a layer of transparent plastic and all connections with devices are made within the tent, by so ensuring protection and the use onboard.

All nautical sports require promptness and a minimum appropriate equipment. That's why the skipper from Ostia made a small (waterproof) external compartment on the surface of his tent to connect the iPad – that allows to check the route through an app– the GPS or VHF radio.
The nautical equipment and the mobile devices can be connected to the marine solar panel (provided with a cigar-lighter plug) by a simple hub for cars as this one.
The tent is also provided with:
4 internal tidy pockets;
4 external tidy pockets;
4 eyelets to fix the content inside;
4 eyelets to fix the tent to the diving board of the catamaran.

Tregoo - Everywhere Energy
---
Thanks to the Energy of Tregoo solar panel (160 watt/hour per day) keeping in charge the mobile devices and the nautical equipment won't be a problem anymore: the tent, conceived and produced by Enrico, is a very useful tool for all those whose life is made of sea and extreme sports and who wish, at the same time, to have the energy of sun always and everywhere.