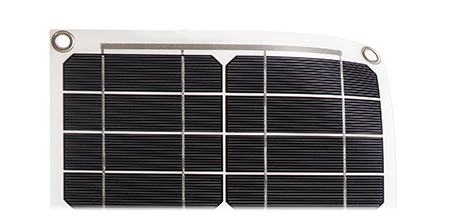 Question
---
How can I order solar panels provided with eyelets?
Answer
---
Thanks to their flexibility (20% of their surface) Tregoo solar panels are suitable to different applications: from sailboat to defender and jeep, from cycle tourism to off grid installations and so on.
In all these cases it might be necessary to apply the panel only temporarily, therefore the product must be easily removable.
In case of any definite application, we recommend you to use a butyl glue: it would not cause you any problem in case of application of the panel over the surface of your Jeep for your off road trips.
On the contrary, you might encounter some problems in case you realized that you have a little space on your sailboat and you would like to temporarily* install the PV panel by some ropes. The solution is a versatile module provided with eyelets for the passage of ropes or hooks.
The solar panels included in the Tregoo Kits can be requested also with eyelets.
The procedure to follow to order a solar panel with eyelets is very easy:
---
Once you have added your TL (or Nano) to your cart, specify "solar panel provided with eyelets "within the notes field".
*NOTA
---
It is important to always ensure the best solar exposure for your panels.